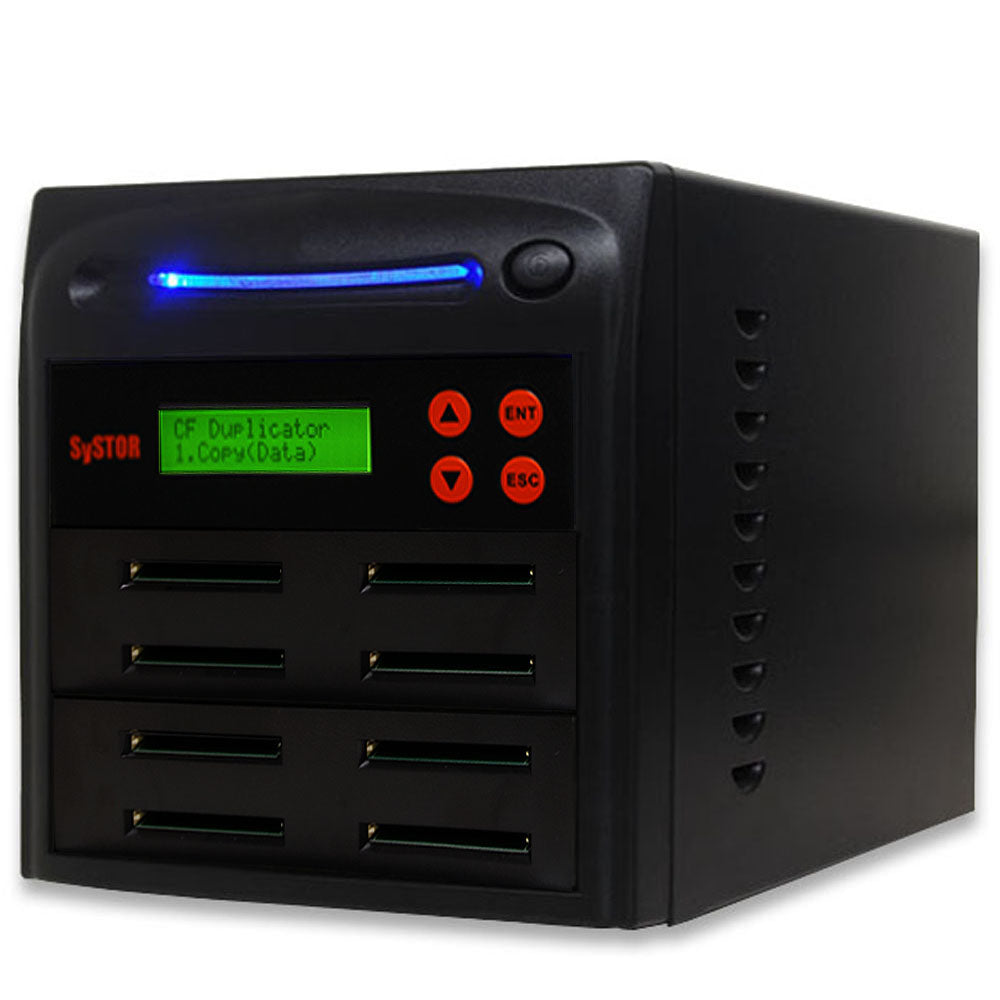 Systor 1 to 7 Compact Flash CF Duplicator & Sanitizer - SYS-CFD-7
The Digital Media Revolution

Make Multiple Copies of Your Compact Flash/CF Cards in minutes, designed for today's technology. The newly added Compact Flash/CF Duplicator conveniently copies the most popular digital media, Compact Flash/CF memory cards, without a computer. Advanced asynchronous duplication means no waiting and no interruption as each channel can independently load, unload, and copy. The new Compact Flash/CF Duplicators also features user friendly 4-key control with LCD, high speed duplication and bit-by-bit Compare function to confirm successful copies. Reliable, affordable, and convenient, the Compact Flash/CF Duplicators are the best companion for any industry.
Key Features:
High speed copy up to 2GB/min.
Built-in with advanced multi-core processor.
Complete Standalone turnkey system; no computer required.
User friendly interface and simple operation
Support Synchronous and Asynchronous copy modes
Can copy systems and files data only or the whole media
Provides a quick and full erase function that conforms on the DoD data security standards.
Bit-for-bit hardware comparison yafor reliability of duplication.
3 mode formatting options. (Auto, FAT, and FAT32)
Real-time display of detailed information on bright LCD screen
Support all file formats, file size, and drive capacity
Real time copy and compare technology to ensure successful and complete copies
Upgradeable firmware
Specifications:
Operating Type                       : Stand-alone (No PC Required)
Supported Media                    : CF Drive (CF Model)
Flash Devices Compatible    : Compact Flash Type 1, 2,
                                                    Microdrives
Transfer Speed                       : 2GB/min or 33MB/sec
System Memory                     : 256MB DDR3
Copy Mode                             : Synchronous or Asynchronous
Format Supported                 : -Quick Copy: FAT16/32,
                                                    NTFS, Linux(EXT2/EXT3/EXT4)
                                                   -Whole Media Copy: All Formats
Supported OS                        : Windows, Linux and other OS
Status LED                             : Green/Red LED
Control Button                       : 4 Buttons (UP, DOWN, OK, ESC)
Power Requirements            : 115V or 230V
Operating Humidity               : 15F ~ 90F
Operating Temperature         : 41F ~ 104F
Regulations                            : CE, FCC, RoHS
---
---
More from this collection