Self-Activating Photocatalystic Face Mask Protective Filter, 30 Sheets, In Stock
All products are shipped directly from southern California, USA. Usually arrives in 2 to 5 business days.
This pack includes 30 filter sheets. The filters are made in South Korea. They are 100% brand new and unused.
These breathable filters are intended for use inside protective mouth covers and face masks.
Filters remove ultra fine dust and reduces exposure to toxins and germs from the air.
A filter attaches by double-sided adhesive tape strips (strips are included with the filters, face mask is not included).
Changing the filters on a daily basis is highly recommended.
Due to safety reasons, we do not accept open or used packs. Only unopened packs are eligible for refund/return consideration.
FILTER HIGHLIGHTS
PROTECTIVE
The reaction creates an antiviral and antibacterial effect, eliminating both organic and inorganic compounds. Many mask filters depend on the density of the mask fabric and its electrostatic charged filtering to block particles. However, if the particles are small enough to pass between the fabric materials or in a humid environment where static charges cannot be produced, then users are not protected from viruses, bacteria and other ultrafine particles."

SANITARY
How many people wash their reusable or homemade masks? The Center For Disease Control (CDC) and doctors recommend you wash it daily. How many times can you use an N95 or surgical mask before throwing it away? These disposable masks are mostly single use only. Adding an extra antibacterial barrier can keep your masks cleaner and longer."

COMFORTABLE
Unlike other filters, the Maru mask filters are thin, flexible, and most importantly, breathable. Air flows easily through the material so you won't notice a difference.

EASY TO USE
Simply take the filter, remove the back of the adhesive, and place it on your mask. Just make sure to replace after daily use.
TESTING & CERTIFICATION


Maru mask filters have gone through rigorous testing and received the following certifications.
Korea Research Institute of Chemical Technology
-
national chemical research institute for the Republic of Korea, established in 1976, and a member of the National Research Council of Science & Technology
Anti-influenza virus test - evaluation of virus inactivation
Result: Pass
Inspected according to Hazard Classification and Safety Guide and 8 substances including ethylene oxide, tapthalene, and 3-Iodo-2-propynyl butylcarbamate tested negative.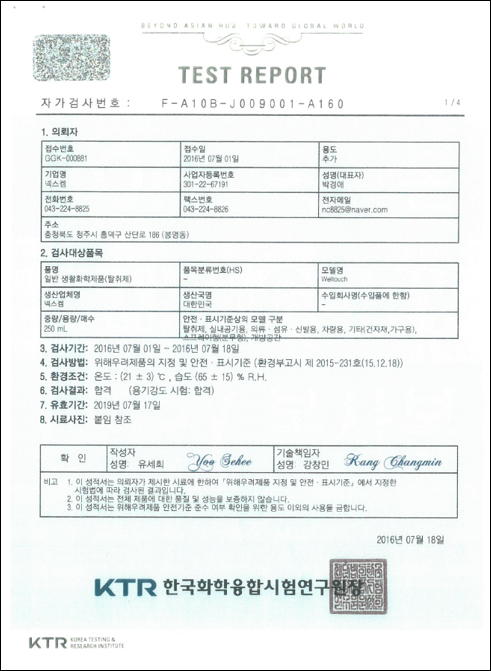 FITI Testing & Research Institute
-
3rd party testing and certification company in South Korea for all fields of industry
Anti-bacterial efficiency test - for self-activated photocatalyst solution
Results: Confirmed antibacterial activity
99.999% bacterial reduction reached at room temperature for two strains within 5 minutes.
Anti-bacterial efficiency test - on mask filter fabric
Results: Confirmed antibacterial activity
99.999% bacterial reduction reached at room temperature for two strains.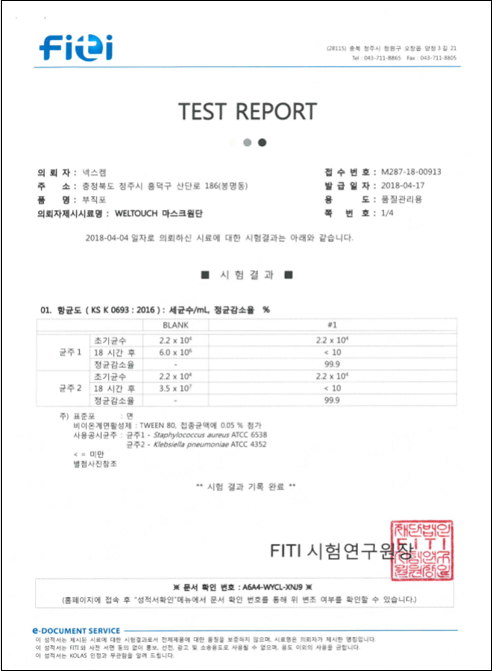 Underwriter Laboratories (UL)
-
3rd party certification company that's been around for over a century
FDA approved extraction study
Results: FDA 21 CFR 175.300 tested and approved
Q & A

1. How do I use the filter?
The filter can be used with all types of face masks. Simply insert the filter between face and the mask. When doing so, make sure it completely covers the nose and mouth.
2. The filter does not stay fixed inside my mask. What do I do?
If the filter moves around the mask too much even with the adhesive strips, we recommend using a small clip or keep the filter secure on your face mask.
3. When does the product expire?
The product is good for use up to 5 years from manufacture date. Stop use and replace with a new filter if it is damaged or contaminated.
4. Warnings
In case of any skin problems, stop use and consult a doctor.
Stop use if wearing the mask cause breathing problems, such as shortness of breath.
Do not cover your nose and mouth with a towel or tissue when wearing the mask.
If the filter is damaged or contaminated, stop use and replace with a new filter.
There might be a typical non-woven fabric smell to the mask.
Depending on the environment, this product may not provide complete protection.
---
---
More from this collection